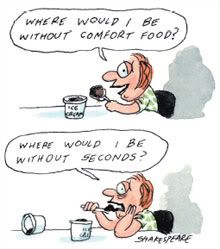 The pile of surveys waiting on my desk here is getting larger. The number of variables to be entered into a stats package is ridiculous. Even thinking about what I'm going to do with this data is terrifying. I freely admit to having gone to the wrong room completely when the maths brains were given out. The deadline for thesis presentation is looming. It's a stressful situation but I've decided today I'm going to make a real attack on it all.
Yes, I will....After I've taken care of the chocolate bar sitting conveniently on top of the pile.
They say the proof of the pudding is in the eating and so it's timely that my behaviour demonstrates a response commonly seen in women when faced with stressful situations.
A study by the University of Leeds shows women to be at greater risk from unhealthy behaviours in such situations. Leading researcher
Dr. Daryl O'Connor
says that stress can disrupt normal eating habits and create a tendency towards snacking, particularly on high fat and high sugar items. Stress can also increase other unhealthy behaviours including increased caffeine consumption, smoking and the neglect of exercise.
The study reveals that it is mental rather than physical stressors that are important. Physical stresses are likely to make us eat less. Additionally, we are not all equally at risk. Those most likely to be follow this pattern are "emotional eaters" (who, me?), who seek to avoid the negative feelings of arousal and anxiety associated with stress by turning to food.
The relationship between stress and food is not really surprising. Stress has been shown to increase the release of a number of hormones, in particular cortisol, which can lead to food cravings. When cortisol levels become elevated in response to constant stress, cravings for the fuels that feed the the stress response, fats and carbohydrates, occur.
A survey undertaken by the American Institute for Cancer Research (AICR) found that after September 11, stress eating was common, with about 20 percent of people eating more comfort foods. Sugar cravings also rose, with 19 percent saying they were eating more sweet, sugary foods.
Nonetheless, the study is important because it reinforces the potential harmful effects of stress on maintaining a balanced diet, when this has been shown to be important to reduce cardiovascular health risk.
So if, like me, you're prone to stress-related eating, try some of the following strategies:
Make sure you continue to eat regularly. Don't wait until 'starvation' hits and you find it harder to exercise control over what and how much you eat.
Remove temptation from your environment.
Try and avoid the urge to snack by deferring eating for 15-3o minutes. The urge to snack may pass.
Don't eat while occupied by a task. When we don't focus on what we're eating, we're less likely to notice signs that our appetite has been sated.
Now, where's that chocolate bar?