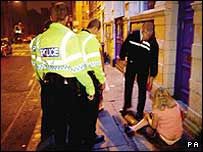 Undies and waxing seems like an odd kind of health promotion message.
My mother always briefed me (sorry, couldn't resist) to wear 'decent undies' when going out. Just in case I might have an accident. Just in case the doctor in the emergency room might be distracted from my medical situation by the state of my underwear.
I guess everyone has heard this from someone at some time. Yet this very advice has raised a storm of discussion in Britain.
Why?

Because this time it's the British police force telling us to watch out for our undies. And, more controversially, because they also have the cheek (sorry again) to suggest ensuring we've had a wax!
"If you fall over or pass out, remember your
skirt or dress may ride up. You could show
off more than you intended - for all our sakes,
please make sure you're wearing nice pants
and that you've recently had a wax."
As a health promotion message, this sounds simply outrageous and it would be laughable, except there is the intention to convey a very serious message with this piece of advice.
Suffolk Police, in eastern England, said the "tongue-in-cheek" advice in the police-backed magazine
Safe
was intended to curb binge-drinking by young women.
Safe,
produced by police, local government and health organisations, is intended as an spoof gossip magazine and is distributed free through shops, clubs and colleges to offer safety advice to young women.
Reaction has been rapid and mixed.
"When you see quotes out of context, it seems
very odd. But
when
you see it in context
you get the spoof. Perhaps it's
gone
a bit too far, but you've got to
give police credit for trying."

Binge drinking among females has become an extremely serious problem. A recent study of risky drinking behaviours in young women in Sydney revealed that 45 per cent of 16- to 24-year-olds engage in "risk drinking", drinking five to six drinks in one day or one session, while 27. 8 per cent drink at high-risk levels, consuming seven or more standard drinks on one day or at one time.

One of the study's main findings was a strong belief that heavy alcohol consumption is okay. Although it was generally acknowleged that risky drinking increased the chances of sexual assault, considered more of a concern than the longer-term health risks of a high alcohol intake.

Addressing the issue of binge drinking is a serious matter. The Police message is certainly attacting attention and starting up discussion but is it appropriate?

More importantly, is it likely to be beneficial or dismissed with a snicker?

What do you think?
Added 20/7/06
This post by Alison Tuck discusses the serious nature of binge drinking further.

Resources

Read the BBC story here