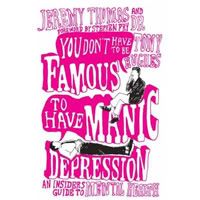 I was a woman on a mission. The idea was to coast the local library, succumb to an hour's reading of trashy magazines accompanied by a good latte and something naughty to eat and then to trawl the shelves for some light, fun (and non-psychological) reading. I'm psych-booked out, what can I say?
First part went according to plan. All those things I never knew about Oprah, Britney, Diana and didn't need to. Coffee was perfect, naughty treat, yum. My hips aren't thanking me though.
Second part, not so good. Had a few titles in mind I wanted to get. I need to get back to reading for pleasure. It's an art that's all too easily lost. All were out. So I ended up browsing and finally end up in the Psychology section.
I did find the book pictured above though. Titled 'You don't have to be famous to have manic depression' (yet featuring a foreword by Stephen Fry ironically), it's written by
Jeremy Thomas
and Dr. Tony Hughes. Jeremy was diagnosed with manic depression, now renamed bipolar disease, over twenty years ago. Although not ground-breaking in any sense, it's nonetheless proving to be an interesting read. The first section is a series of conversations between Jeremy and Tony, detailing Jeremy's experiences with this condition. If you've ever read the fabulous book by John Cleese and Robin Cook (Families and How to Survive Them), you'll get an idea of what the book is like. The second part of the book is more practical with resources for understanding mental health and getting life back on track. In any case, worth a read.
And, just to point out, I didn't receive anything to mention the book.....not even the yummy treat.