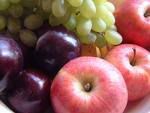 It's kind of ironic this post should follow on from one on The Biggest Loser.
Dr. Deborah Serani
wrote earlier this week about the
role of the insula
in addictions and cravings. Very interesting and oh so timely. If only Deborah had included instructions on how to turn the insula off. Mine appears to be in overdrive.

Friday, I started a full elimination diet. Five weeks of rice, pears, chicken, beef and not much else. Two days later, I have full on cravings, even for things I wouldn't normally give the time of day. That gluten free loaf that wouldn't be out of place on a building site? The black cherries that appear to have put on a fur coat in the cold of the fridge? Even the cat food smells delicious. According to my insula, it's open season on just about anything.
The goal of this radical diet (under medical supervision) is to explore food intolerances. Cravings can apparently play an interesting role in intolerances. Often the foods you crave the most are the very foods creating a problem. Intolerances differ from allergies. Normally you can return to a problem food in moderation, once individual thresholds for tolerance are established.
For cravings in general, which are usually related to a specific food, there are all kinds of theories. A common belief is that the particular craving represents a deficiency in the diet and the craving is the body's way of signalling it. If that were the case, wouldn't we all crave a nice head of broccoli? Or the much maligned brussel sprout? Most people crave sugary, fatty foods. Let's face it, they taste better.
Helpful hints to avoid cravings include eating a variety of foods (sigh), waiting 15 minutes before considering caving in and, the old reliable, distraction. Hmm. Something like blogging? Riiiiighht.
Maybe I'll just eat this blog instead?