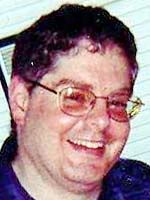 In memory of Denis F. Lavelle
Aged 42, of Yonkers, New York

Five years ago, on September 11th, while I went to bed early, Denis F. Lavelle started his day as accountant for Syncorp Insurance, a division of Marsh & McLennan, in the World Trade Center, Tower 1.
Half a world away. The end of a beautiful Spring day in Australia, the start of a fine Fall day in the United States.
By the time I woke up, the world had changed immeasurably and the man behind this beautiful smile had left us forever.
Today, as part of the 2,996 project, I join together with fellow bloggers worldwide to remember the 2,996 precious souls lost on September 11th. For those of us fortunate enough to have been spared the loss of a loved one on this day, by participating in this project, these people will be strangers to us no more.
So.....let me tell you a little about Denis.
Denis Francis Lavelle was the son of Emily Lavelle and the late Francis M. Lavelle of Yonkers, New York. Denis was one of six children, with four sisters and a brother. Denis was also the much loved uncle of several nieces and nephews.
Denis graduated from Saunders Trade and Technical High School in Yonkers and from Pace University.
In researching material for this memorial, two things really stood out about Denis. His warm personality, with a sense of fun and a ready smile. His kindness and generosity.

"My brother, Denis, was a great person. I don't think he did a wrong thing in life. He was good to everyone. He would give you the shirt off his back."
Marie Paprocki, sister.
Nowhere was this more apparent than in his devotion to his mother, Emily, who had been widowed when Denis was just 16. Over the years, his mother became severely arthritic. Denis, unmarried, remained living with his mother, helping her around the house.
"He was so devoted to her. He was a dedicated son."
Marie Paprocki, sister.
Weekends would find Denis taking his mother to Mass and to the Italian restaurants on Central Avenue. Denis had a real passion for Italian food.
"I used to make pasta and broccoli for family gatherings and he couldn't get enough of it. I have not had the heart to make it since the September 11th tragedy."
Marie Paprocki, sister.
Please take a minute of your time to think about Denis F. Lavelle and to pray for his family and friends .
"Death leaves a heartache no one can heal, love leaves a memory no one can steal."
Source unknown.
Denis F. Lavelle.
We will never forget.
Visit the
2, 996 project
and remember the lives lost on September 11th, 2001.
Postscript 11/9/06.
Apparently the 2,996 link is down due to traffic volume.