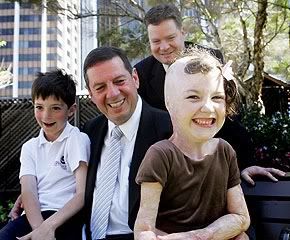 A little off topic but today is Father's Day in Australia.
For most, it's a day to celebrate the first special man in our life. For others, it might invoke signficantly less positive emotions and might be a day they would prefer to avoid thinking about.
My own emotions today are mixed. My father passed away 17 years ago, my step-father 7 years ago. Both were wonderful men, quite different, and their loss has left a significant gap in my life. So, from that point of view, today is tinged with a little sadness.
The flipside of the coin is the sheer excitement of my small daughter, who awoke this morning at 6am busting to wake up her father with a bag busting full of goodies. I've managed to hold her off so far. Even Dads need a lie-in sometimes....
What I really wanted to share today is the story of the Australian Father of the Year, Mr. Ron Delezio. Australians are, of course, very familiar with the Delezio family.
Mr. Delezio is the father of 7 year old Mitchell and 5 year old Sophie. Sophie is a truly remarkable little girl. In her short life, she has fell victim to not one but two tragic, life-threatening accidents.
The first incident occurred when Sophie was aged two. She was taking an afternoon nap on the floor when a car left the road, smashed through the wall of her pre-school building, caught alight and trapped Sophie and her friend Molly Wood underneath. Sophie suffered burns to 85% of her body, in places down to the bone. She lost an ear, some fingers and both feet and for weeks it was uncertain whether she would even survive.
A long, hard road to recovery followed.
Then, unbelievably, tragedy stuck again in May this year when Sophie was hit by a car. This time Sophie was left unconscious and on life support. Amazingly, she fought back, leaving hospital five weeks later.
For any parent, this story represents a worst nightmare.
Sophie has come through it all, smiling and loving life. An incredible girl. An incredible family.
Mr. Delezio is honoured as the recipient of the 2006 Australian Father of the Year today partly in recognition of his community action during this time. Following Sophie's first accident, Mr Delezio and his wife, Carolyn Martin, established
The Day of Difference
, a charitable foundation to conduct research into diseases associated with burns.
Mr. Delezio is surprised by his award, saying "so many other fathers have had to support their children through very difficult times, sometimes leading to the worst situation, where they have lost a child." Sadly true but, nonetheless, as a father, he is an inspiration.
"We have such a short time on this earth to enjoy
with our
loved ones. Life is so fragile and can be
taken away or
changed in the blink of an eye."

Important words which resonate so loudly with the anniversaries of Katrina, September 11th and the Bali bombings imminent.
So, while it might specifically be Father's Day today, take the time to appreciate those in your life who are important to you, whether they be family, friends or even your blogger pals.

Resources

Brave Sophie leaves hospital
Sophie's Dad an easy choice for Australian Father of the Year
Super Sophie