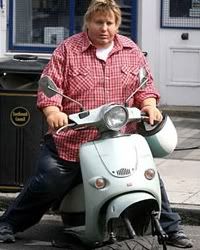 Do not adjust your sets.
Yes, this is TV celebrity chef Jamie Oliver and, no, he hasn't been digging into a little too much of his own "pukka tukka".
Jamie is publicising his follow-up to "
Jamie's School Dinners
", his series in which he persuades British schools to ditch processed, ready-made junk food and replace it with fresh, tasty, nutritious food, prepared from scratch every day.
By putting on a latex fat suit, walking around laden with boxes of junk food, he's hoping to drive home a message about the evils of fatty food. In the scene in the photo above, his trademark Vespa collapses under the burden of his weight.
Jamie is certainly commended for his efforts to transform the notorious British school dinner (spam fritter, anyone?) into a healthier option but is this an appropriate way to do it? It certainly has the potential to alienate or offend some people.
More importantly, healthy eating is about so much more than weight loss and this approach runs the risk of making that the sole focus.
Having said that, Jamie is a fun guy and, certainly, humour can sometimes get a serious message over better than the use of shock tactics. Compare this to the current anti-smoking campaign, highlighting mouth cancer (advertising image shown below). A common response to this kind of campaign is simply avoidance through switching the television channel.
So, Jamie. Funny or offensive? Effective or just a plain joke?
What do you think?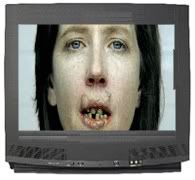 Resources: