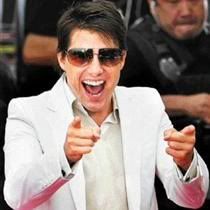 Poor Tom is having a rough time of it of late, culminating in his dumping this week from Paramount for 'inappropriate behaviour.' Whether it's jumping on sofas on Oprah, lambasting Brooke Shields for taking anti-depressants, his Scientology beliefs or his Tomkat antics, the guy just can't seem to catch a break.
Although he did win an "Ernie" this week.
The "Ernie" is an Australian award handed out annually for the worst derogatory public statements. Cruise was given the 2006 Celebrity Ernie for a comment he made about his then pregnant partner Katie Holmes.

"I've got Katie tucked away so no one will get to us until my child is born."
We can chuckle at the idea of the "Ernie" and simply dismiss such a comment as another "Tom" incident. After all, there's been a lot of public scrutiny both of the Tomkat relationship and the lack of a public sighting of their baby, Suri. You only have to go online, open a magazine or watch television to read or hear about how Tom is forcing Katie to lose weight fast, imprisoning her in their home, forcing her to abandon her Catholic faith for Scientology....yada yada yada. The variations are endless and the truthfulness of them? Well, who knows with any degree of certainty?
So, Tom Cruise. Katie Holmes. Has Health Psych morphed into Entertainment Weekly?
No. Celebrity factor aside, there's a serious issue here. Controlling behaviour is one of the most common problems in relationships. While this behaviour has been more frequently associated with men, women are also capable of being controlling (just ask Mr. Health Psych).
Controlling behaviour can be nasty, and therefore obvious, but it can also be far more subtle. What about the over-caring person who does everything for you? We all like to be taken care of but what about when the end goal of that nurturing is to drain you of your self-confidence and foster your dependence?
So, what should you be on the look out for?*
Is the person jealous and possessive of you? Are you being isolated from family and friends? Have you had to make sacrifices for this person e.g. give up a hobby or activity?
Does he/she encourage you to become dependent on him/her? Are you told how to act and what to wear?
Is he/she two-faced - critical and abusive in private but charming in public? Does this person make you feel more insecure than you used to be?
Does the person have extreme mood swings? Do you constantly try to work out how he/she is feeling and your best strategy for keeping him/her happy? Do you feel you have to "fix" his/her moods? Are you made to feel to blame when you argue? Do you often feel you have to apologise for this person's behaviour? When you challenge him/her about his/her behaviour, does he/she ridicule your challenge?
Does he/she make you feel intimated or afraid, without you even being able to articulate why?
Strategies for dealing with a control freak*
Don't collude with him/her. Most relationships aren't extreme, just frustrating and claustrophobic. Most people will try and work around controlling behaviour but by taking on responsibility to "fix" the situation, the controlling behaviour is reinforced.
Be honest about yourself. Is there a part of you that encourages the control?
Don't go for confrontation. Fighting back often aggravate the situation, so that as one party tries harder to "win", the other tries to resist. However, giving in encourages the other person that their strategy works. Work out a compromise that doesn't threaten the other person but doesn't give-in either.
Set boundaries. This is crucial for self-protection and in defusing the situation. Decide what you will and won't allow but don't be aggressive in verbalising that.
Help him/her. In less extreme cases, people are often unaware of the issue and most want to stop their controlling behaviour.
Most importantly, start early. Be aware of the warning signs. If you think this may be you and the behaviour is extreme or abusive, seek professional help.
*
Please note these warning signs and coping strategies are taken from "Are you living with a control freak?" by Maureen Rice, Good Medicine, June 2002.
Resources
Tom wins Australian award