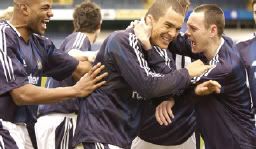 World cup fever is upon us.
For those who will temporarily become football widows during this time, the news is not all bad.
A
survey
by the Mental Health Foundation in the UK highlights the importance of football in helping men express their softer side. Two thirds of the men who completed the survey said that watching football made it easier for them to share their feelings with other men.
Dr. Andrew McCulloch, Chief Executive of the Mental Health Foundation, says:
"It is encouraging that football makes it easier for men to talk about their feelings as traditionally, men are far less likely than women to share their innermost thoughts. It is important that men feel able to express their emotions in whatever way they find most comfortable."
Besides emotional release, football has also been linked to other positive psychological benefits including building social connections and promoting exercise.
For those wishing to put forward a good argument for spending a lot of time in front of the television over the next few weeks, more about the psychological impact of football can be read
here
.