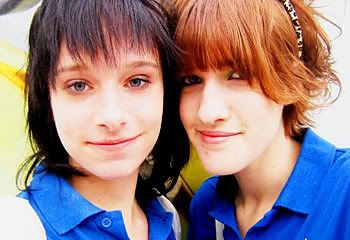 This photograph is of Stephanie Gestier and Jodie Gater, two sixteen year olds from Melbourne. Stephanie and Jodie were friends. Last Sunday, these beautiful girls, who had been missing for a week, were found hanging from trees in the Dandenong Ranges. An apparent suicide pact.
An unbelievable tragedy for their family, friends and community.
While the real reason underlying their action will probably never be known, much attention has been given to the fact that both girls had posted about their depressed mood on MySpace in the months leading up to their their deaths. Stephanie had written explicitly about suicide.
The role of the internet in suicide is growing. Many cases of internet-related suicide have now been recorded worldwide, reflected by the setting up of a bizarre website specifically to record MySpace users who have died.
Interaction between adolescents, being able to share experiences during what can sometimes be a difficult time, is a good thing but it can also be the proverbial double-edged sword. The internet and sites such as MySpace take an individual outside of their normal environment and can potentially expose them to a wide range of ideas and experiences, not necessarily all positive. While understanding that adolescence is a time of striving for autonomy, this tragic story also highlights the need to know who your child is talking to and what they are doing online. A very fine balancing act for any parent.
Most experts agree that during adolescence, it is critical is to be available to listen, be alert to warning signs and to keep the lines of communication open, even though it may not always be easy to do so. For more on risk factors and warning signs for teen suicide, please read
this article
by Dr. Michael Carr-Gregg, Adolescent Psychologist.
If you are experiencing distress, please talk to someone
now
. The following helpline numbers are available 24 hours.
Please note these numbers are valid for Australia only.
Lifeline 131 114
Kids Helpline 1800 551800
Suicide Prevention Crisis Line - (02) 9331 2000
For details of emotional distress/suicide helplines
worldwide
, please access the
Befrienders Worldwide
website.