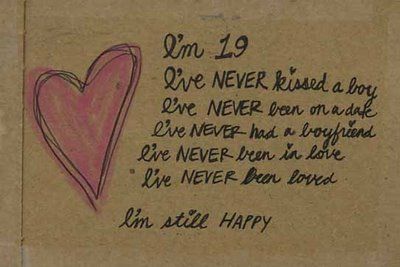 I've been visiting
Post Secret
for a while now and always find it intriguing.
Post Secret is a site where people anonymously mail in their secrets on a self-designed postcard. The secrets run a whole range of emotions - from hope to regret, from ecstatic to funny to tragic and sad, from desire to confession.
What attracts people to the public revelation of a secret?
The power of the secret. When to keep? When to tell?
Theories abound about why keeping secrets might be bad for us. People often talk about the
physiological and psychological stress inherent in witholding the secret.....or the thought that in keeping a secret we're somehow denying something very basic about ourself.
Psychologist Anita Kelly, author of the "The Psychology of Secrets", questions the evidence that keeping secrets causes physical harm.
"There is no direct evidence showing that keeping secrets
causes illness. Studies show that secretive types –
those who fear disclosure – do exhibit more physical and
psychological symptoms, but those types may be
predisposed to illness because of their personalities,
not because of a particular secret."


While it is generally thought that disclosure is healthier, Dr. Kelly says disclosure has its own dangers, which can be determined by the subject matter. In particular, electing to reveal secrets about sexual behavior and mental health problems can cause problems.
"

If you give people information about yourself,
you give them power over you

".
Dr. Kelly also points out that secrets usually get passed along to at least two more parties and that people may not always respond to our secrets in the way we expect.
This makes a project like Post Secret quite attractive. A secret can be unburdened, the secret is visible for for the world to see and yet no one need ever know it's origin. Except for the secret giver.
The best of both worlds? What do you think?
Resources
Kelly, Anita E. and McKillop, Kevin J. (1996). Consequences of revealing personal secrets. Psychological Bulletin, 120, 450 .