"
It's not what you think but the way you think it."

I have been spending a lot of my time thinking about rumination recently. Rumination can be likened to a mental chewing of the cud, a repetitive thinking about issues or problems without any real progression to action. It's apt then that this is the area underlying my thesis, because it's been a lot of thought and very little action so far.

It is widely accepted that the content of our thoughts can influence the way we feel. However, a growing body of research demonstrates that the way in which we think about things is important in determining the severity and duration of depression.
Work by
Dr. Susan Nolen-Hoeksema
has examined the role of ruminative thinking in depression: specifically, a repetitive focus by the individual on being depressed, on the symptoms of his or her depression and on the cause, meanings and consequences of those symptoms.
(1)
Typical contemplations might include questions such as, 'Why did this happen to me?' and statements like, 'I'll never feel good again.'
How does rumination impact on depression?
The inward-focus inherent in rumination can increase an existent bias towards negative thinking, including distorted interpretations of life events, more negative self-evaluations, a sense of loss of control and more pessimistic predictions about the future.
(2)
(3)
In what could be termed a snowball effect, this can initiate further concerns which then accumulate.
Rumination can affect problem-solving ability. Ruminators often fail to generate solutions to problems. Even when they do, they often express low confidence in their solutions and fail to act on them.
(2)
While active cognitive coping can be adaptive initially, thinking about ways to improve a situation raises levels of anxiety and depression when it fails to be followed up by subsequent action.
(4)
As a result, an increasing sense of failure and a general sense of hopelessness can occur, resulting in a further escalation in the severity and duration of depression.
Rumination can also impair social support. Constant rumination can drive others away, which can start off a whole new cycle of rumination. "Why are people abandoning me?" A loss of social support can be critical because social support can act as a distraction and divert attention away from depressed mood and its consequences.
(5)
Assess your own tendency to think about problems.
Are you an obsessive thinker? Would you generally spend more than five minutes thinking about a problem? Ask others what they think.
If so, you are probably likely to ruminate.
Breaking out of the rumination cycle
Distraction techniques can help break the rumination cycle by reducing the tendency to focus on problems.
(2)
Engaging in activity can help break the stranglehold of obsessive thinking. Go for a walk. Read a book. Watch a movie.

Learn to recognise and reappraise negative perceptions of events and high expectations of others.

Let go of unrealistic goals.
Break down problems into a series of more manageable tasks which can then be acted upon.
For further reading on rumination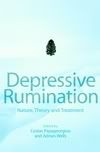 Edited by Costas Papageorgiou and Adrian Wells