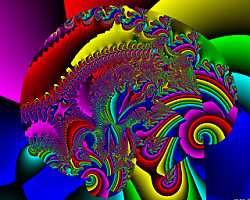 In response to the earlier post on happiness, someone talked about the pursuit of happiness being similar to the quest for the Holy Grail.
Following that quest, scientists are currently looking to extend work in deep brain stimulation to promote happiness.
Having isolated the areas of the brain relating to pleasure in rats in the 1950s, the work was extended to humans in the 1960s, placing electrodes deep within the brain. Electrical stimulation led to feelings of wellbeing, so much so that the subjects repeatedly self-administered electrical shocks to the area. However, the feelings of pleasure stopped immediately the stimulation ceased.
Today, this early work has been extended and implemented successfully in medicine for pain management and Parkinson's Disease. Individuals are now able to control their pain by using a switch mounted in the chest to deliver voltage to an electrode in the pain centres of their brain.
This has again reawakened interest in the artificial manipulation of happiness. Certainly, this has the potential to provide feelings of pleasure but is this truly happiness? Happiness is more than a fleeting feeling. Most people would define happiness as a longer term, pervasive sense of contentment. And in experiencing a constant euphoria, wouldn't many other experiences be missed?
Professor Paul Salkovskis, clinical psychologist at King's College London made an interesting point in relation to artificial means of creating happiness.
"It seems to me that drugs as a solution to unhappiness are rather similar to kind of, you know, say plastic surgery to enhance your beauty or whatever."
We all know how popular plastic surgery has become.
If your continued happiness could be guaranteed by an electrode in your brain, would you take that leap?
Read the full story at
Scientist's Short-Cut to Happiness